The 340B Drug Pricing Program Success Story: Ryan White HIV Entities
How government partnership with drug manufacturers and grassroots health organizations is changing lives, one patient at a time.
The 2016 election season is over, and discussion regarding the future of the 340B program is heating up. In the face of this uncertainty, supporters are wondering how the nation's new leadership will oversee caring for our most vulnerable — patients who face major health problems. Today, many in the 340B industry fear that the 340B Drug Pricing Program will be a likely target of the 115th Congress. The mission of the 340B program is nowhere more evident than Ryan White HIV/AIDS clinics. Since the 340B program's inception, AIDS service organizations (ASOs) have been the poster children for safety net providers that serve as the first line of support for many patients in need. Major therapeutic advancements since this disease's discovery mean men, women and children infected with HIV have bright prospects for a healthy life, if they receive the right medical treatment. The Ryan White program, which brought forth ASOs, has foreshadowed the true intent of the 340B program since its inception in 1990.
The 340B Program permits eligible safety net providers "to stretch scarce Federal Resources as far as possible, reaching more eligible patients and providing more comprehensive services."
In 2005, 583 hospitals were part of the 340B Program. In 2011, approximately 516 340B hospitals were Ryan White clinics. By January 2015, HRSA counted 11,530 enrolled organizations. Rather than accepting 340B growth as a positive expansion of support for the sick and needy, the pharmaceutical industry has consistently directed barbs at large hospital systems and their burgeoning 340B programs. PhRMA, a group that represents national leading pharmaceutical manufacturers issued a report claiming that many 340B hospitals were not treating enough low-income and uninsured patients to justify inclusion in the program. As the 340B program has grown, so has the lobbying efforts from PhRMA, aggressively seeking to influence rules and regulations, in order to narrow access pathways to 340B-drug discounts.
Which brings us to today, a time before a new President takes office, and before the Health Resources and Services Administration (HRSA) issues a final report on the long-awaited 340B Mega Guidance. Despite the increased scrutiny, HIV/AIDS service providers that predominantly constitute Ryan White organizations are minimally impacted by the 90-page draft HRSA guidance on program changes. If the final document remains true to the initial proposal, then qualifying Ryan White clinics will continue to have access to drug discounts, bill the full medication price to insurance companies and provide free drugs to uninsured patients.
But, 340B program changes are still being considered, and that is why it is critical to understand one fact: The 340B program is worthy of protection, because through it comes needed medical treatment and community outreach.
Ryan White Entities and the big picture of HIV — What's the connection?
According to the latest CDC data, of the 1.2 million people living with HIV in the U.S. in 2011, an estimated 86% were diagnosed. This means that 14% (approximately 1 in 7 people living with HIV) were unaware of their infection; therefore, these individuals were not accessing the care and treatment that could help them maintain their health and reduce the likelihood of transmitting the virus to their partners. In addition, people living with HIV are not receiving optimum care. Of the 1.2 million Americans living with HIV in 2011, CDC data showed that:
40% were actively receiving HIV medical care

37% were prescribed Antiretroviral Therapy (ART)

30% had achieved viral suppression
In other words, only 3 out of 10 people living with HIV had the virus under control
The CDC's analysis provided further insight into the 70% of people living with HIV who did not have their virus under control in 2011. Among the nearly 840,000 who had not achieved viral suppression:
An estimated 20% did not yet know they were infected

66% had been diagnosed, but were not engaged in regular HIV care

4% received HIV care, but were not prescribed ART

10% had been prescribed ART, but had not yet achieved viral suppression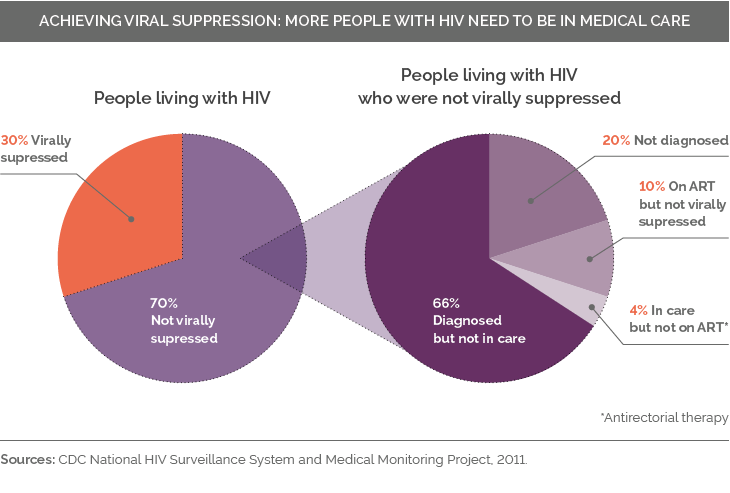 The percentage of Americans with HIV who achieved viral suppression has remained roughly stable over the past few years (26% in 2009 versus 30% in 2011). This underscores the importance of continued and intensified outreach efforts to encourage testing and to make sure that those diagnosed receive prompt, ongoing care and the right treatment to help them live longer, healthier lives, and to help prevent the spread of HIV to others. In 2012, the Ryan White HIV/AIDS Program served approximately 536,000 low-income people with HIV in the United States. This represents approximately 52% of the estimated population living with diagnosed HIV infection.
The passing of the Ryan White CARE Act in 1990, created federal funding for HIV clinics, by 2 main pathways:
Creation of ADAP (AIDS Drug Assistance Programs)
ADAPs provide federal, matching state funding for prevention, diagnosis and treatment of those with HIV infections.
The 340B Drug Discount Program
When the first effective ART drugs came out in 1996, Ryan White early intervention programs and state ADAPs were the first to gain access to deeply discounted drugs.
As state programs, ADAPs are generally susceptible to the whims of state legislatures who design the program. This often means a coverage gap for people in need, which translates to an opening in people's lives that can usher in illness and worsening financial status. This is where AIDS Service Organizations (ASOs), are crucial to the equation.
ASOs support HIV/AIDS community care; however, they rarely have the scope to treat HIV or prescribe ART. They generally provide front-line services, including counseling, HIV testing and referral resources. In many states ADAPs can cover premiums and fund ASOs to expand support for essentials such as housing, food, case management, mental health and wellness services. There are significant disparities across the country surrounding available services on a state-by-state basis, when it comes to ASO outreach. And, the way support is structured also plays a role in potential patients' acceptance of available help, since barriers including disease stigma and discrimination do arise in programs where ADAPs pay for premiums, due to issues including indirect disclosure to employers.
Despite the organizational challenges that necessitate ADAPs and ASOs linking to create a complete support structure, one thing is clear — the Ryan White/AIDS program works. We can measure the impact of its actions through client-level data. Most recent data for services provided from 2010 to 2012 demonstrate that:
Those who received Ryan White medical care increased viral suppression rates from 69.5% in 2010 to 75.1% in 2012; this is due in part to increased investments in the AIDS Drug Assistance Program and increased technical assistance activities.

ADAP waiting lists decreased from a peak of 9,310 in September 2011 to zero in September 2014.

In Fiscal Year 2012, more than 244,436 people received HIV-related medications through ADAP.
A profile of one ASO sheds light into the inner workings of a vital community organization, and further highlights the crucial role of the 340B Drug Discount program.
The ASO — Case Study — Positively Living
The Positively Living story began in May 1996 with a dream and a few dedicated individuals determined to make that dream a reality. The dream was to organize a day center for East Tennesseans living with HIV/AIDS. The founders were determined to bring dignity, respect, and emotional support to those facing the debilitating effects of HIV/AIDS. Their original vision evolved into Positively Living, which was brought to life with a $25,000 start-up grant from the Robert Wood Johnson Foundation, and was formally founded in July of 1997.
In 2003, Positively Living acquired its current East Fifth Avenue facility. The 16,000-square-foot building was purchased with assistance from the City of Knoxville, Knox County, Federal Home Loan Bank of Cincinnati, and the Department of Housing and Urban Development (HUD).
Today, Positively Living operates as a 501(c)(3) not-for-profit agency providing case management, supportive housing, food service, and mental health/addiction counseling to individuals who are homeless; mentally ill; addicted to drugs, alcohol, or other substances; and/or living with HIV/AIDS.
ASOs like Positively Living, although eligible for 340B program benefits, are not able to directly access 340B savings because they do not have a medical provider on staff or under contract. This is where a contract pharmacy network administrator, such as Wellpartner, can not only be a "financial partner" for Positively Living, but most importantly a "care partner" for its clients. This relationship with Wellpartner allows Positively Living to use revenue from the 340B Program for educational workshops and group activities that foster community and trust between clients and the organization. Positively Living is able to purchase over-the-counter medications for clients who can't afford them, assist clients with copays and help the uninsured gain treatment.
Matt McAdoo, Director of Positively Living's 340B program said, "In areas like the South, where the HIV crisis has its epicenter and where many states have elected not to offer other forms of coverage, such as the expanded Medicaid option under the ACA, it could mean longer ADAP waiting lists and more people out of care."
Without the 340B program, there is no sustainable way for us to provide any of these services.
In other words, in states like Tennessee, 340B savings is the difference between HIV clients receiving treatment or not. The revenue that Positively Living generates via its contract relationship with Wellpartner funds needed services. By working directly with Wellpartner Pharmacy, eligible clients, most of whom have HIV, pay nothing out of pocket for their medications. Positively Living is able to deliver medications pre-sorted into daily pillboxes or blister packs, eliminating confusion and the pill bottles that can disclose HIV status. It can deliver pills to clients on-site during regular services, or straight to a client's door.
Q&A with Positively Living's 340B Program Director, Matt McAdoo
Q: As a Ryan White entity, please share when choosing a 340B administrator, what is important to you?
A: Having a client-centric approach to service delivery was paramount. It stood out that Wellpartner had a reflecting client/patient-centered approach. Their capabilities include transparency and real time program monitoring. Originally, we underestimated the importance of this level of transparency, but after working with Wellpartner's client web portal daily, we now see the need as we can look at a dashboard, or see detailed claims.
Q: What stood out to you about Wellpartner when choosing a specialty pharmacy partner?
A: Wellpartner was willing to adjust their protocols and procedures to meet our model, instead of requiring that we meet theirs. This is so valuable in a small organization like ours; we don't have the staff, nor the resources to move mountains. Wellpartner found workable solutions for us to succeed together. It was important to have a dedicated Account Manager; we did not want patients to feel like just another number. Many of our client patients find comfort in knowing they will speak to the same person every time they call.
Q: What has the Wellpartner relationship allowed you to accomplish with your patients?
A: Wellpartner has allowed us to be more hands on with our client's medical care.. One patient, working through a diagnosed depression was having a rough day. It just so happened that Wellpartner's Account Manager called him on an unrelated issue, but gauged that something was off. Our Wellpartner Pharmacy Account Manager called to alert us that our patient seemed unwell. This allowed us to perform a wellness check and ensure our patient's wellbeing. This is a situation where Wellpartner proactively provided insight that we would not have known about otherwise. It is apparent that Wellpartner pharmacy staff's job does not end with dispensing medication. The patient's mental stability and emotional stability took precedence, as it should. Wellpartner is a true collaborator, a partner, and sees its role as more than just a contract pharmacy. This also indicates the compassionate company culture that Positively Living has consistently witnessed in working with Wellpartner.
Q: Specifically, what are you plans for your increased savings from the 340B Drug Pricing Program?
A: Positively Living hopes to provide more community outreach in the form of copay/deductible assistance, a food pantry, transportation, and continually seeks ways to augment our client-centric approach, on an individualized basis. It is our intent to offer a similar model to that of an insurance plan's Health Resources Account. We would like to be able to fund nutrition, financial and copay assistance, as well as address other client financial barriers.
We are in the process of developing a clinic for medical care with four telehealth locations in rural counties, with transportation and medical case managers beginning April 1, 2017.
Q: What do patients say about the difference in the level of service they receive at Wellpartner versus with your previous pharmacy?
A: In my experience with four previous contract pharmacies, I've never witnessed any pharmacy taking a proactive approach. Our Wellpartner pharmacist takes the initiative to look after the mental/emotional well-being of patients, which we talked about previously. That example is such a great testament to what is unique about Wellpartner.
Q: Describe the level of interaction your patients have discussed having with Wellpartner staff.
A: Our patients have given us feedback that Wellpartner provides consistent answers, and transparency, so patients know where they stand. Our clients are also grateful that calls are answered live, without a ticket system, and they're glad to have that one-on-one with our dedicated Account Manager, which fosters relationship-building.
Q: Can you describe an example of a time when you encountered an issue getting a patient's medication and how Wellpartner staff helped manage this for you?
A: A Chattanooga patient had extremely high copays for all of her medications. It reached a breaking point where this individual had to choose which medications they were able to afford each month, and which household bills they could afford to pay. In order to eliminate that burden, and allow them to focus on their health we are able to assist them financially. None of this is sustainable without 340B support. We would not have the confidence to provide this level of community outreach, without knowing that 340B funding would be there to sustain us.
The needs, challenges and positive results achieved are due to a wide ranging set of efforts.
FEDERAL


The Ryan White HIV/AIDS Program is a comprehensive system of care that provides HIV care and treatment services to more than half a million people each year.

STATE


The AIDS Drug Assistance Program (ADAP) is a state and territory-administered program authorized under Part B that provides FDA-approved medications to low-income people living with HIV who have limited or no health coverage from private insurance, Medicaid, or Medicare.

COMMUNITY


AIDS Service Organizations (ASOs) are community health associations and support agencies that provide help to people with HIV/AIDS and their families and friends.

FOUNDATION FOR COMMUNITY


The 340B Drug Discount Program is a federal program requiring drug manufacturers to provide outpatient drugs to eligible health care organizations/covered entities at reduced prices.
Those in the 340B industry realize that the 340B Drug Discount Program runs much more deeply than lower cost prescriptions. It provides treatment for those who are seriously ill. Its savings go towards valuable community services. Its creation was born out of necessity, and program growth directly correlates with better health and outcomes, which the Ryan White clinics' achievements exemplify.
The English author, Samuel Boswell once wrote, "A decent provision for the poor is the true test of civilization." As our country looks for ways to improve and shape our country, it is crucial to look at success stories like this government-enforced prescription drug discount program that strengthens grassroots community organizations, safety net hospitals and other Covered Entities servicing Americans in need, ultimately contributing to our national well-being.